Israeli Ship Struck By Iranian Missile
26 Mar 2021 Jerusalem Post Pg 4:
While the world tries to pretend that the government regime in Iran is as harmless as the Boy Scouts, with a new administration in the US White House, Iran has attacked Israeli ships for two months in a row.
Israel needs our prayers, and courageous prayer warriors on the front lines in Israel.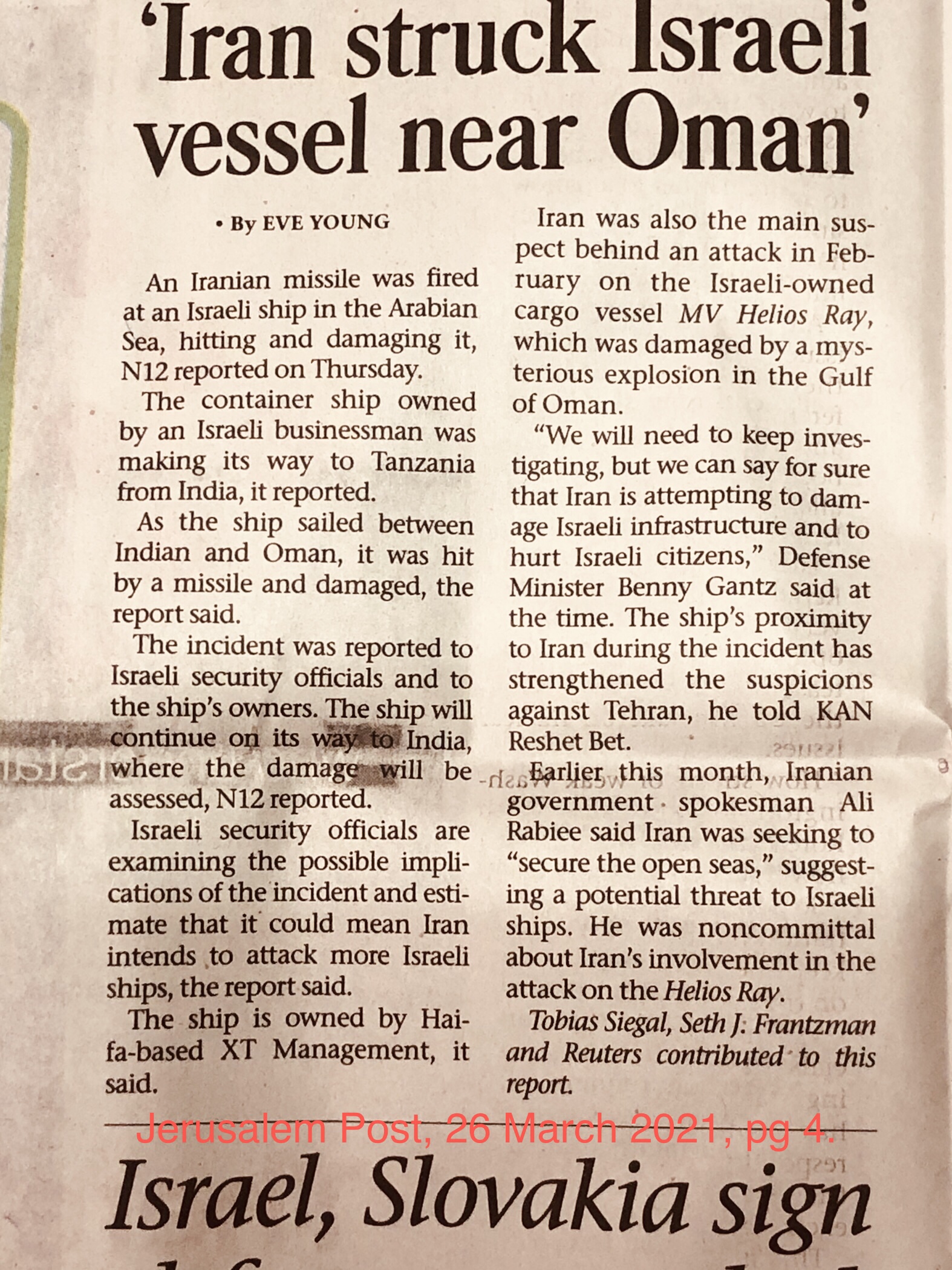 Here in the Middle East, it's not every day that some nation makes an announcement of peace with Israel. The last time it happened was with Jordan in 1994. Prior to that it was Egypt, and that's it. But the question is – is this good for the Middle East, good for Israel, good for the world?
Israel is dealing with the plague; In the midst of political changes; Three national elections in one year; and then the neighbors pick up again with explosive packages carried by balloons, incendiary balloons lighting fires in the southern farmlands (this is a recognized war crime); Rockets fired at civilian homes (another war crime).
Taking the high ground, the army responds by targeting missile launch sites, missile factories, and terror tunnels (not a war crime).
What's been going on with the peace deal with the UAE and Israel? The United Arab Emirates has come out into the open, Trump has announced the agreement (The Abraham Accords), and Netanyahu has announced it, the agreement between the UAE and Israel has become public; I'm getting two main responses. The first is, for example: "The UAE can't be trusted; they're Arabs, they're going to use the deal with Israel and stab Israel in the back;" And the other response is, "Well, whatever, what else is in the news?" In other words, "Why is this important?"
So, first of all, let's take a look at Genesis 12:3.
http://j.mp/PurimR12
Shabbat Purim Parah: The Sabbath of the festival Purim, with a look at a passage of the weekly Bible reading, Parashat Tsav. Israel news updates on the election, coronavirus, and a significant update in US-Israel relations.
Bible teaching and news commentary from our bomb shelter in Samaria.
We raise funds to support bomb shelters, through http://JTOD.org.
Interact with my Facebook albums: 2014 to the present.