5 April, 2023, Mabuim and Tzrifin, Israel:  This year, the Muslim holiday Ramadan (a month of daily fasting together with nightly feasting) overlaps the Hebrew holiday of Passover and Feast of Unleavened Bread.
On 5 April, around 7 am in Mabuim, as Israelis were in their final preparations preparing the feast and house cleaning for Pessach (Passover), rockets were fired at Jews.  This would be followed by at least 44 more rockets on the following day.
On the same day, the Post reported a 21-year old Muslim from Hebron (the PA section) had stabbed two Jewish soldiers in their 20's in Tzrifin near Rishon Lezion: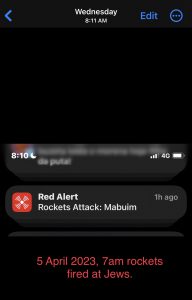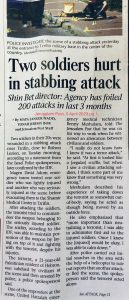 Thank you for your prayers and financial support, and may all have a safe and happy Pessach season.