2022, Summer: Israel's newest bus company seeks to attract drivers with a starting salary of 15,000 shekels per month.
(On 18 Sept 2022, this equates to $4,382.9669 US Dollars with the rate 1 ILS = 0.292198 USD and 1 USD = 3.42234 ILS).
Meanwhile, the schoolteachers union reached a compromise with the government education ministry, thus, the teachers have gotten a raise this year, about 300 shekels per month higher than that shown in  this report.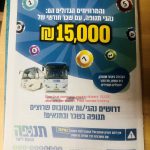 Related articles:
Average Salaries: 2022 Israel Report is In
Arabs Shoot Jewish Bus Driver In Face; Passenger Takes Over, Steers Bus to Stop