9 Nov 2023, Samaria:  In 1965 under Egyptian occupation of Gaza, an ancient synagogue was discovered in dating back to 508 AD.  At first, Egyption archeologists assumed it was a church, but upon further research, they agreed it was a synagogue.  The mosaic tile floor had artwork with David written in Hebrew, with a picture of David playing what appears to be a psaltery, with docile animals nearby.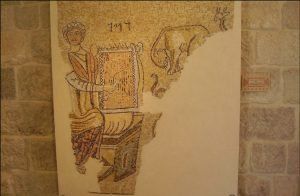 After discovery, the Arabs of Gaza defaced the mosaic, so following the Six Days' War of 1967, it was removed from that location to be restored at the Israel Museum.
"Nowadays, visitors can marvel at the mosaic floor of the synagogue in the Museum of the Good Samaritan, located near the Jerusalem-Jericho Road close to the Israeli settlement of Ma'ale Adumim. One of the most renowned panels in the mosaic floor portrays King David, identified by a Hebrew inscription reading 'David,' as he plays the lyre with a gathering of docile wild animals before him."  Source: Jerusalem Post:  https://www.jpost.com/judaism/article-772218
Support our work in the Land.